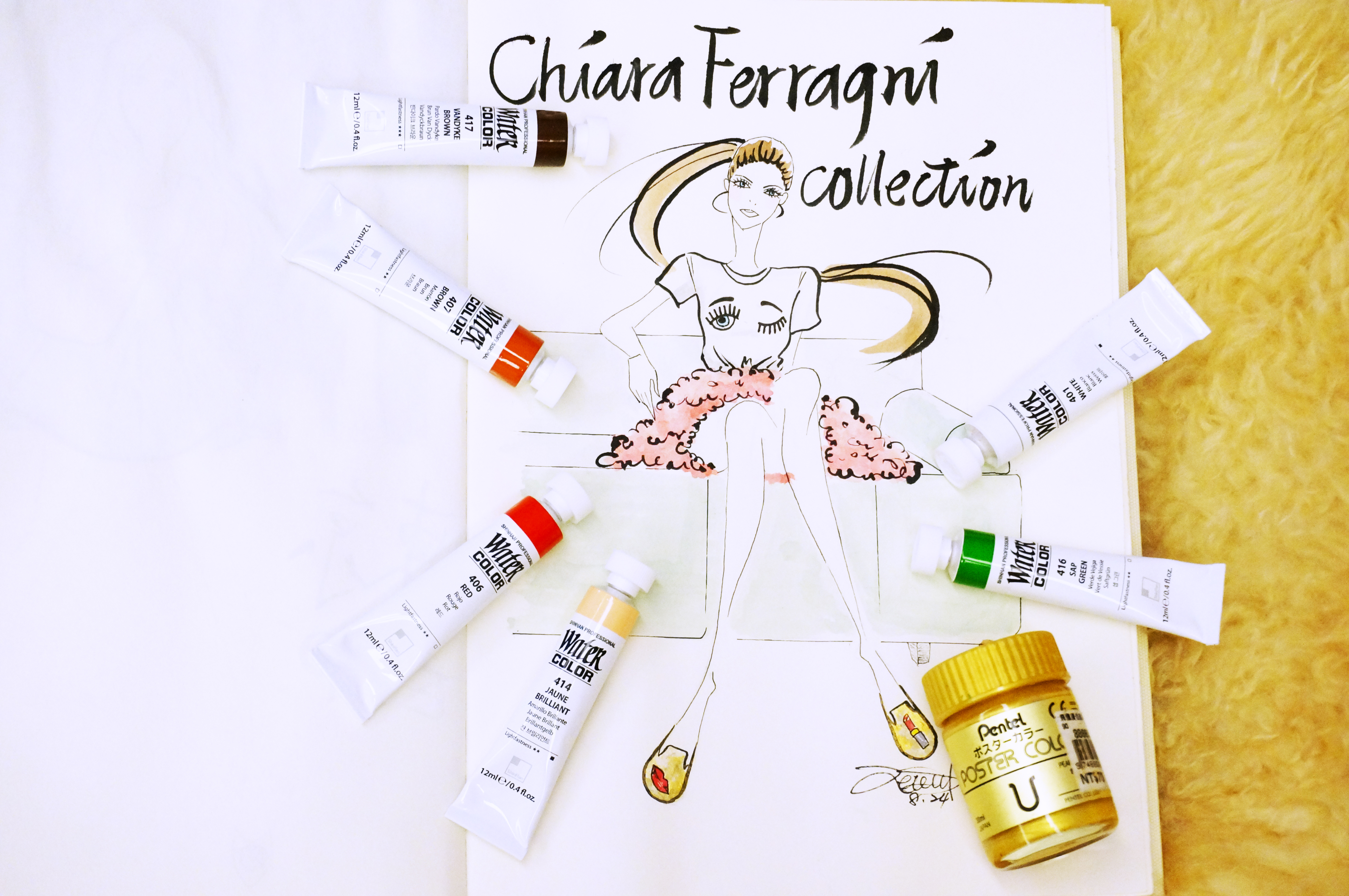 What makes your life joyful? What makes you feel a little more happier through this exhausted busy bee life? To me, every things- no matter it's only a book, a piece of chocolate cake or something that looks adorable, amazing and unique can spice up my boring life. These days, I found my new love to my wish list: shoes collection from Chiara Ferragni, the young blogger from The Blonde Salad.
是甚麼讓你的生活愉悅?是甚麼讓你在這繁忙的生活中仍擁有一絲快樂?對我來說,任何事情-不論只是一本書、一塊巧克力蛋糕或一個看起來可愛、新奇和獨特的小東西都能為我的生活添增趣味。最近我在我的慾望清單中新增了一項-部落客The Blonde Salad,Chiara Ferragni的女鞋品牌 。
I've subscribed to many fashion blogs, reading through these fascinating blog post with gorgeous modeling photos is my biggest entertainment everyday. Maybe these bloggers aren't the best writers of the world, however, I love the way they take me experience a day in their life.
我訂閱了許多時尚部落格,每天讀一兩篇充滿美麗照片的文章是我最大的樂趣。或許這些部落客不是最優秀的作家,然而,我卻深深喜愛著他們透過文字,帶著我一同經歷他們生命中的一天。
One of my favorite blogger is Chiara Ferragni, a young, beautiful Italian blogger from The Blonde Salad. I've read her post since 2010, even though she's so famous now, especially she's on the list of Forbes, she's still so close to the normal fan girl like me: I drew her outfit for the Dior fashion show once on my Instagram, she's not stint to like my illustration!
我最喜歡的其中一位部落客是來自義大利的Chiara Ferragni。我從2010年開始訂閱他的The Blonde Salad。即使他現在已經是如此有名,甚至還登上了富比士的名單當中,我認為,他還是願意親近像我這種普普通通的市井小民:我替他在我的INSTAGRAM中畫過一次他參加DIOR時裝周的時裝插畫,他也不吝惜地來替我的畫按下LIKE!
Not only she's friendly, popular and successful, she's also creative. Five years ago, in 2010, Chiara Ferragni became the creative director of her own shoe line- Chiara Ferragni Collection. Perhaps, she's the first blogger who connects her blogging fame with global business market.
他不只友善、有名且成功,他也十分地有創意。五年前,也就是2010年,Chiara Ferragni成為了品牌 Chiara Ferragni Collection的創意總監。或許,他是第一個將自己的部落格事業帶向國際經紀市場的部落客。
My goal is to create shoes that make feel woman always on point.
Her business became a global success in 2014 by its icon" flirting" slippers. What I love about her shoe line is the fun materials. For the Flirting collection, she put a pair of interesting eyes on the shoes with one eye closes, also, the eyes in the collection have that gorgeous water blue pupil, I guess it's representing Chiara's charming big eyes; for the Make-up collection, she put a red lipstick and a red lip on each side of the shoes, representing her career of fashion and beauty.
他的事業在2014年成為國際頂尖潮牌,以「Flirting」這一系列為代表。我之所以喜歡這個品牌是由於它有趣的元素。在「Flirting」中,他放入了一對新奇好玩的眼睛,而且一隻眼睛還是閉上的。這一系列中的眼睛都有清澈的水藍色瞳孔,我想就是在代表他那雙驚為天人的藍色雙眼吧;在「Make-up」系列中,他在每一雙鞋各放入一條紅色口紅與紅唇,象徵了他的時尚與美妝事業。
Another reason I love about it is the glitter, sometimes I think too much glitter will ruin a thing, a room, a cloth or other stuff, however, the colors she chose for her collections are just fit my appetite, there's no reason, it's only a feeling that I can't express with words.
另一個我喜歡Chiara Ferragni Collection的原因是他的亮粉。通常我認為過多的亮粉會破壞了一間房間、衣服或其他東西,然而,Chiara所選的亮粉顏色卻讓我覺得整體都非常符合我的胃口,說不出原因,這只是一種無法言喻的感覺。

Anyway, Chiara's design makes me feel so joyful, from her photo shoots and designs, I can see how lively her collection is. If I own a pair from her collection, I bet I'd just stare at those splendid flirting eyes when I'm down, or, maybe I can show the flirting eyes to my Mr. Right to flirt with him!
不論如何,Chiara的設計都讓我感到心情愉快,從他的攝影和設計中,我可以感覺到Chiara Ferragni Collection是多麼得生動活潑。如果我能擁有一雙「Flirting」系列的鞋,我想我一定會在心情不好時低頭盯著那雙媚眼看,或是我可以穿著他展示給我的Mr. Right和他調情!
In my opinion, what make Chiara Ferragni so gorgeous is not the delicate face she born with, it's due to her confidence to herself, her creation and her successful business. I want to have those enthusiasm, too, maybe I'm not so pretty, however, I believe with my hard work, I can also success in my dream career.
在我看來,Chiara Ferragni的美不只是由於他天生的精緻臉龐,而是他對自己的自信、創意與成功的事業。我也希望能擁有那份熱情,雖然我可能沒有那麼美麗,但我相信透過努力,也能在心目中的職涯有一片天。

What about you? Are you interesting in her shoe line now? Or maybe you already own a pair of it? Share me your thoughts about this.
那你呢?你對他的品牌感到興趣了嗎?或者你已經有一雙了?和我分享一些感想吧。