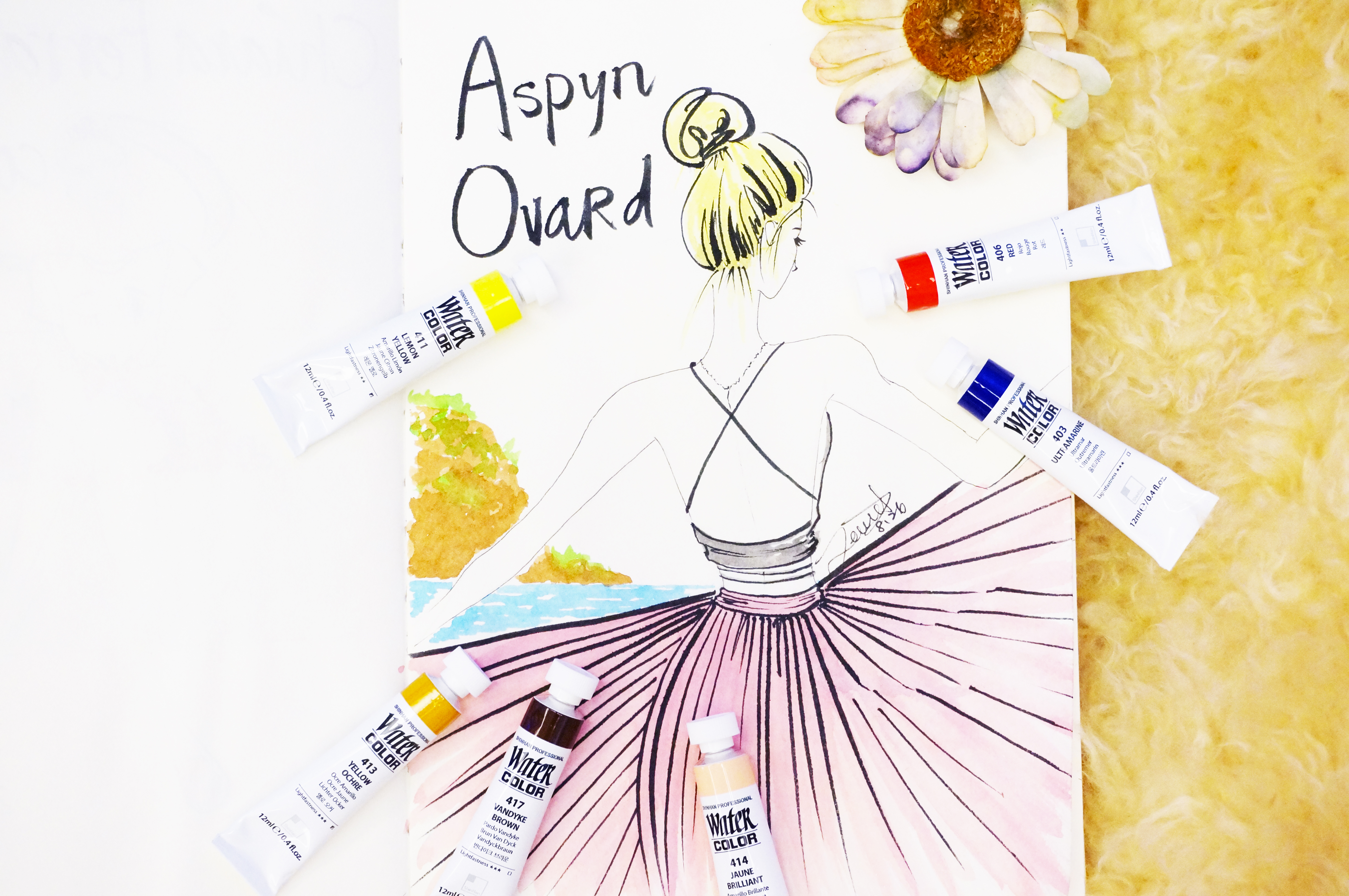 Beauty guru is one of the biggest category on YouTube. There are youtubers who acts in a mature way like Michelle Phan, Zoella, who shows her crazy personality like Meghan Rienks, or the one who's still so young and energetic like Sierra Furtado and LaurDIY. One of my favorite is a 20- year- old girl from Utah named Aspyn Ovard.
美妝部落客是在YOUTUBE中最熱的分類之一。現在有許多YOUTUBERS例如成熟的Michelle Phan、 Zoella; 瘋狂的Meghan Rienks或那些依舊很年輕又充滿活力的Sierra Furtado和LaurDIY等等。其中,我最喜歡的是一位來自猶他州的20歲女孩Aspyn Ovard。
(Photos from Aspyn's Instagram)
Before fame, Aspyn was a school cheerleader who loves traveling so much.  Until 9th grade, she found herself extremely interested in makeup and inspire by all the other beauty bloggers and YouTubers, she decided to start up her own beauty blog " HauteBrilliance" and start her YouTube channel and vlogging channel in the summer of 2011.
在Aspyn成名之前,他是一位熱愛旅行的啦啦隊員。一直到九年級,才發現自己最美妝有了極度的熱情,而且,受到喜歡的YOUTUBER影響,Aspyn決定架設自己的美妝部落格HauteBrilliance,更在2011年的夏天成立了YOUTUBE頻道。
At first, she was a timid girl with long brown hair and love sharing us her makeup routine, inspired makeup, hair tutorial and outfit of the day/ week. I enjoyed watching her videos every single week. What I love about her channel is she doesn't have heavy makeup nor do dramatic wing eyeliners, me, myself don't do makeup, I only apply a small amount of cc cream, light blush and lipsticks, most of the time, I don't even wear blush. Hence, I adore her light makeup tutorial, it makes me feel more connected and related.
一開始,他是為含蓄的棕髮女孩,喜歡和觀眾分享化妝過程、美妝技巧、頭髮編織和每周每日穿搭。每個星期,我都很喜歡花時間看Aspyn的節目。我喜歡他的地方是他並沒有很化上一層濃厚的妝,由於我自己基本上是不化妝的,頂多就是薄薄一層CC霜、一點點腮紅和口紅,因此,Aspyn輕薄的妝感令我有一種更親近他的感覺。
February 2015, she set up her official  beauty blog, the style of her blog is so fresh and clean, it's like a document edition to her video.
去年二月,他也新成立了他自己的官方部落格,帶給我一股清新與舒爽感,就像文字版的YOUTUBE頻道一般。
Now, she still remains the same personality: cute, energetic and friendly, however I thinks she look even more stunning and mature with her new hair color, reminds me of Elsa from Frozen. It's a pity that I'm not the citizen of the U.S.A, if I could, I wish I could meet her in person because she seems like a truly nice girl. I'd like to be her friend, chat with her and hang out with her, not for fame but for fun.
現在,Aspyn還是保有著可愛、活力、友善的個性,不過,我認為Aspyn在染了頭髮之後變得更加艷麗,也多了一份成熟感,讓我想起了冰雪奇緣的艾莎。我不是美國公民真的是一件很可惜的事,如果我可以,真的很希望能親自見到他,畢竟Aspyn看起來是一位很和氣的好女孩。我也希望有一天能和他成為朋友,和他聊天、和他出遊,這不是為了出名,而是出於快樂。
The best part I like about Aspyn is her vlogging channel. Her life looks like it's always having lots of fun! Especially it's a daily vlogging channel, it feels like I'm really being a friend of hers: going out for shopping, vacations all together. She also brings a positive energy to me, watching her videos with light and bright colors will always cheer me up. I've never felt jealous to her life and her fame, what I'm affected by Aspyn is I should also enjoy my life, school's important, nevertheless, being unhappy will ruin everything even if you are high educated.
Aspyn最棒的地方在於他的VLOG頻道。他的生活看起來總是充滿著驚奇的事!特別是他幾乎天天上傳,這就好像我真的是他的朋友一樣:一起逛街、一起度假。而且他也帶給我許多正面能量,他充滿色彩和明亮的影片總是能帶給我愉悅的心情。我從來不會忌妒他的人生,我只認為我想要和他學習生活的品味,課業固然重要,然而無法感到開心,再高的學歷都枉然。
Last summer, she announced the she got engaged with her boyfriend, Parker during their trip to Greek, it was such a joyful news. I wish me and Mr. Right can be like them, love deeply and happily, I think they are definitely the dream relationship and the goal for every couple.
去年暑假,他宣布和男友Parker在希臘訂婚,這真的是一則再開心不過的消息了。我也希望我和Mr.Right能像他們一樣,深深地愛著,開心地相處,我想Aspyn和Parker絕對是情侶們心中的典範。
What I want is not to be her, she's goal however I'm not her. On her social medias I've seen lots of girl commenting " Aspyn I want to be you, I'm so ugly!"," Aspyn you're goal! Why can't I be you?" I just want to say that even though she's so perfect: perfect life, perfect mom, perfect boyfriend and perfect every thing, I still don't want to just" be her." I know what my perfection is, to me, Aspyn is my role model, I want to learn how to lead a wonderful life like her.
我所想要的並不是成為他,他是目標沒錯,但我並不是他。在Aspyn的社群網站中常常有女孩寫道:「Aspyn我好想變成你!我好醜!」「為什麼我不是你?」即使Aspyn很完美:完美的生活、完美的媽媽、完美的男友和完美的一切,我還是不想成為一模一樣的他。對我而言,我知道我的長處在哪裡,Aspyn是我的目標沒錯,但我所想要的是向他學習如何讓生活變得更美好。
Don't try to be somebody you're not because it doesn't work. If you try to be this perfect person or perfect persona of what you think that somebody should be when they are involved in public office, It's just not going to work. Just be yourself, stay true to your core values, and really just stay abreast of the issue.