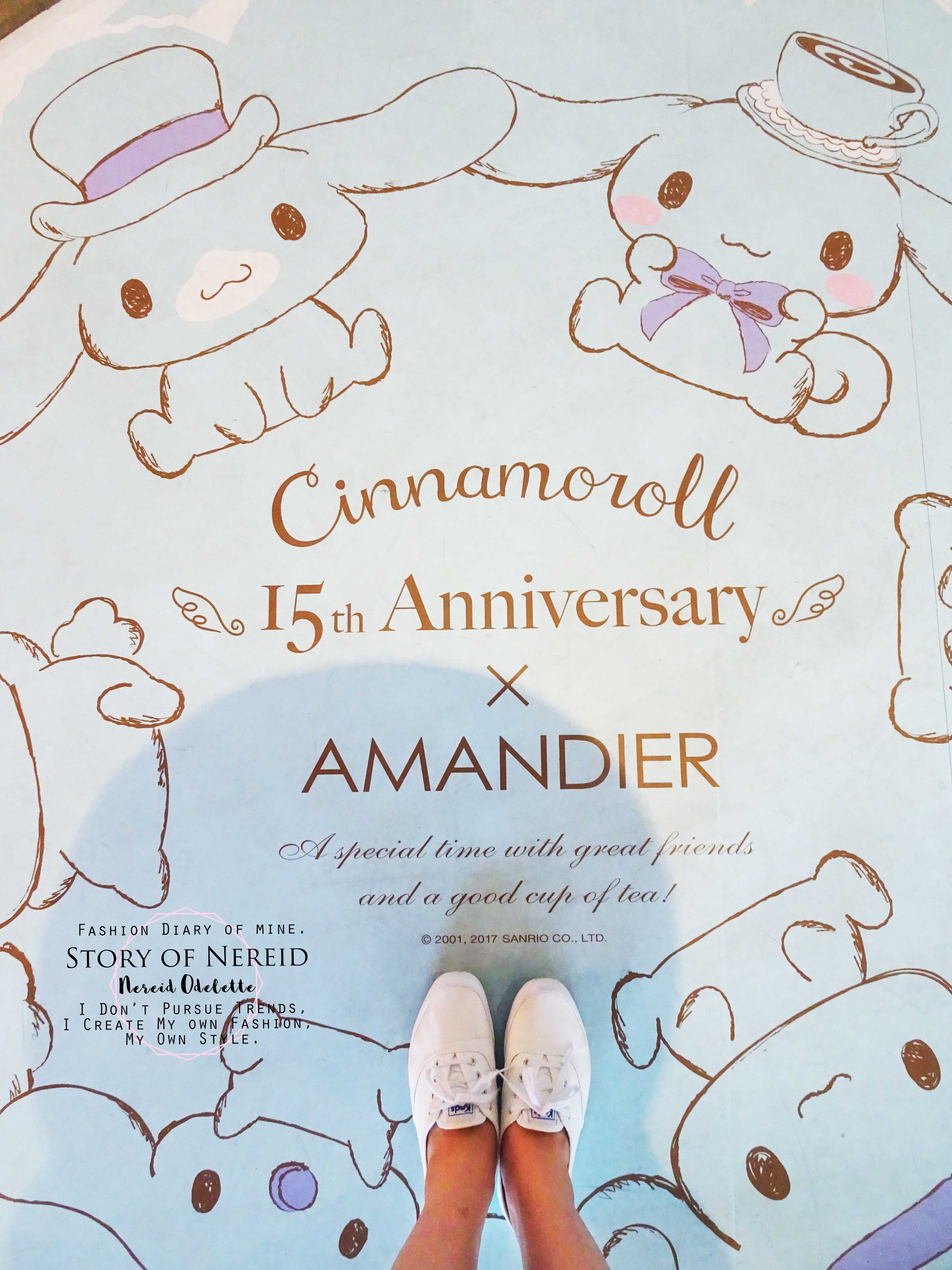 To have your childhood dream realized is a really big deal. -Maya Rudolph
One of the most famous mascot companies in Japan is Sanrio, a Japanese company who designed Hello Kitty, Melody, Pompompurin, Kiki & Lala and so on.
Even though the most famous mascot in Sanrio is Hello Kitty, my favorite character is Cinnamoroll.
Cinnamoroll is a puppy with a pair of big ears who can float in the sky. Reason why his was named "Cinnamoroll" was that one day, the owner of Cafe Cinnamon looked up and saw a white puppy floating in the sky like a fluffy cloud. His tail was plump and curled up just like a cinnamon roll, so she named him Cinnamoroll. They have been living together ever since that day and Cinnamoroll had soon became popular with the customer.
Speaking of Japan, I could only envy the amount of interesting theme restaurant of Sanrio or anime from the website; however, this summer, Cinnamoroll theme restaurant had finally came to Taiwan to celebrate it's 15th anniversary.
Cinnamoroll restaurant was a well decorated place which could definitely attracted girls and children's attention. Every corner of the place was worth photoed, from its door way to the end of the interior.
Even in the restroom, there were full of large paintings with Cinnamoroll and his friends.
These days, the consumption pattern have changed in Taiwan, it's not enough to serve the meal with good quality, it's also important to set up photo booths or some well-designed walls for customers to photo and check in their place on Instagram. It's now a comment way to advertise in Taiwan- everyone could be a driving force.
Sometimes, the restaurant will also provide their customers some accessories to leave their best memory on their social media. For Cinnamoroll restaurant, of course they'd place a giant stuffed Cinnamoroll for us to hug and to play with.
Usually before going to a theme restaurant, I wouldn't have a great expectation for its "food" because most of the theme restaurants are just about it's atmosphere and uniqueness, rather than it's cooking skill. Nevertheless, what surprised me was that  not only the food presentation was adorable and nice, the meals from Cinnamoroll restaurant were pretty good to eat as well!
For a girl like me, the size of the meals in Cinnamoroll restaurant is large enough to eat, I thought it'd be only a few, instead, it made my stomach full.
Every thing in this restaurant was printed with the face of Cinnamoroll, it made me feel kind of guilty when biting them into half actually.
Anyway, it was a pleasant restaurant to go with your family, love one or your friends.
In this baby blue and aqua blue restaurant, I decided to wear a piece of red dress and styled it up with my white polka dot shirt. I found that this summer, I'm in love with this kind of strong red since this color will let my skin seems so clear and bright.
The trick to make you still look young, playful and casual with a piece of mature red dress is to put on another piece of white clothing, especially a piece of casual white chiffon blouse. Most important of all, you need to tie a knot on it, that way, you can not only create a higher waist line but also add some sportive elements to your outfit.
I couldn't tell you any reason, but I feel like a pair of exaggerate earrings, specially with bows in macaroon colors  is perfect for summer time. Also, in order to arise the quality of your outfit, wearing some chic accessories with metallic design is your best solution.
I hoped you enjoyed my fashion and lifestyle post for today. Having a nice lunch date in Cinnamoroll restaurant is a dream come true to me. I remembered that one day when I was 10 or 11, when I came home after the performance of our tap dance group at 2 am with my father, I saw a full set of Cinnamoroll mascot standing on our kitchen bought by my brother from Mcdonald's. You can imagine how happy and excited I was as a innocent child, they weren't something expensive or unique; however, the happiness they exuded was invaluable.